Getting Around – Transport In America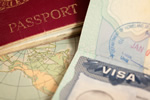 Getting Around – Transport In America
America is a vast country, and it can easily take 36 hours to drive straight through from coast to coast. America also has the world's greatest car culture, which means public transportation in general is woeful but the national interstate highway system is the envy of most countries. America is not a place to rely on trains or coaches for long-distance travel.
The nation's Amtrak train network is notoriously late and unimpressive in terms of service and accessibility. Its lines up the eastern seaboard, between Boston and Washington, DC are the most useful for regular travel but the majority of its routes are scenic lines that hark back to the days before the highway system was created. Fares are affordable and the seats can actually be quite comfortable, but the trains rarely arrive on time.
The Greyhound Bus Company provides America's long-distance coach service and is much more reliable and useful. Fares are very reasonable and you can reach almost every corner of the country. The Greyhound buses have a reputation in America as being the transport of the poor and vagrant. But that's a sad commentary on American's obsessions with their cars and not reflective of Greyhound's service.
To move around America quickly, air travel is the only option. There are a number of excellent regional carriers such as Southwest and Allegiance that support the major national carriers like Continental and US Airways. Very affordable fares are common on the low-cost regional carriers, such as Jet Blue, but nothing like the rock bottom prices offered by Ryan Air. Still, to get from one state to another air travel is best.
But if you want to blend in with American society you simply have to drive a car. Virtually everyone in the country has at least one, if not two or three, in their driveway and they are used for everything from long-distance vacations to quick trips to the market. Americans simply don't know any other way to move around their country except by car.
Fortunately, if time is not an issue then driving a car around the country is the best way to see its wonderful landscapes and meet its diverse population. Car hire options are unlimited, including one-way rentals and long-term deals. The interstate highway system is fantastic, running through every major city and well-supported with gas stations, restaurants and little towns.
Locally, the roads in America are also in top shape. It's rare to encounter a stretch of potholed road unless you are in the rural backcountry. But with the freedom of automotive travel comes the excessively vigilant police force. They stalk speeders, stop sign runners and anyone else who violates the rules of the road. Whenever driving in America always pay close attention to the driving laws or pay the price.